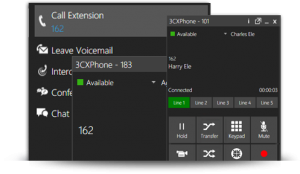 To the end user, 3CX is just like any other other fully featured phone system – and by fully featured we really mean it, to the owners it is is quite simply the most cost effective easy to manage phone system we could find, and it can also significantly reduce your call costs and line rental significantly compared to landline based systems.
3CX enables companies to leverage all that is best in telecoms, from, deskphones,  CTI, computer based soft-phones, through mobile communications and teleconferencing all in one great package.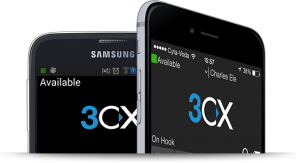 The easy to navigate GUI console is laid out in a convenient manner, and wizards guide the user through the creation of new extensions, adding of DDI numbers and a host of other features that are seldom this easy to implement in a phone system. You won't need an 'ology'  to make this one work.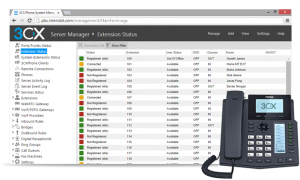 Of course we will be on hand, and as 3CX partners you can trust us to install and manage your systems for you if you wish, or we can show you how you can manage it yourself. With 3CX support behind us as well, you can be assured your system will be the market leader you expect it to be.
3CX is cost effective too. Unlike traditional licensing options where you pay a licence for every extension you have on the network, 3cx licences are for active calls – this means you can give everyone a phone without worrying about licences.
Call rates are effective too – lines are just £6.00 per month and calls are 1p per minute UK national (01,02,03) Freephone is just that, free so it works out as a great package.
There is also a hosted solution which is a great way to move your phone systems to the latest systems with little capital outlay. Remote working or distributed workforce, this is an excellent solution for that situation. all work as one team, see when people are and are not available, who is on a busy and call for free between these remote extensions any time of the day or night. Yes, on-network calls are free, so you can call us for free.
Want the best in unified communications with converging networks, why not contact us now to see how we can help you set your phone system free and leverage savings.